Check out this amazing new product, the 'Success Chart' from Cherry Top Rewards. Every time you want to reward your child for a task completed or for their behaviour, let them scratch off a Success Circle. They get the instant reward of finding out what exciting picture lies underneath!
Krystal from Cherry Top Rewards kindly sent me two charts. One for us to review and one to give away to you lovely people!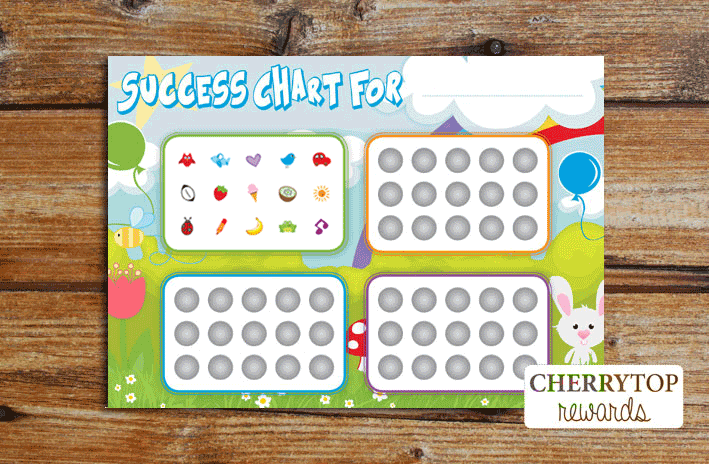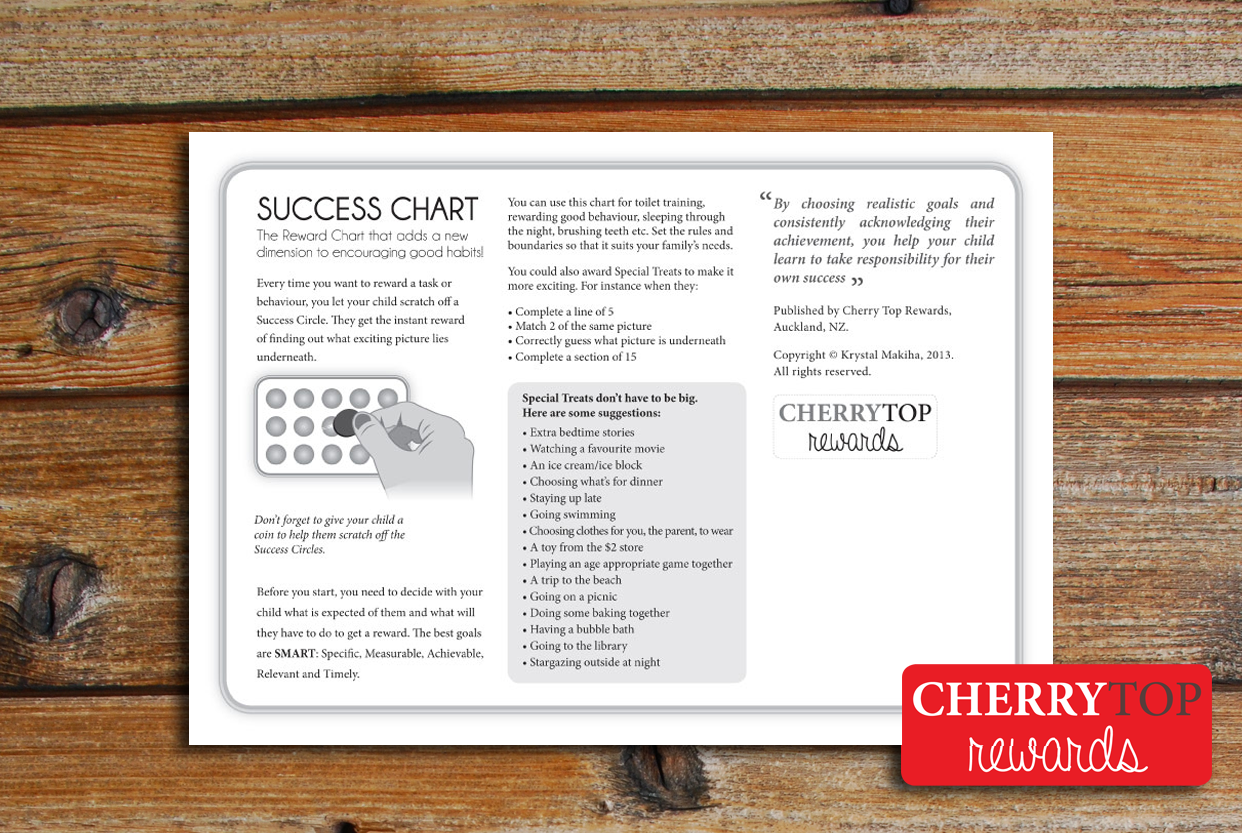 As I mentioned in this post I've really been concentrating on being more intentional and positive in my parenting, especially when it comes to Mr Noah, my headstrong yet delightful 4 year old.
I have found that this chart has been an excellent tool in encouraging and motivating Noah in a positive way. He loves getting to scratch off the circle and can't wait to see what is hiding underneath. He seems much more excited about this than any sticker chart I've done before. (Besides I've had a couple of occasions where the sticker book was discovered and the TV got covered in stickers – I fortunately don't have that problem with this chart!)
We've been using the chart to encourage positive behaviour from Noah – at his kindy they use the phrase 'good choices' something we try and carry over at home. If he makes a 'good choice' or decides against making a 'bad choice' he gets to scratch off a success circle. Recently Noah had a splinter in his foot and I told him he could also scratch off a circle if I could remove the splinter with a needle. Not only did he gladly let me remove the splinter he also offered me another (phantom) 'splinter' to remove. It turned out it was a freckle. I guess this is a testament as to how much a hit this chart is with my kid!
I also love all the innovative ideas and helpful tips on encouraging your kids on the back of the Success Chart (see the second to top photo). For example:
"The best goals are SMART: Specific, Measurable, Achievable, Relevant and Timely."
And..
"…Take photos or draw pictures of the tasks and/or behaviours you'll be rewarding, and stick them right next to the chart. Combined, they'll be a visual reminder of the goals you've set together.

You can use this chart for toilet training, sleeping through the night, brushing teeth etc. Set the rules and boundaries so that it suits your family's needs…"
We've been keeping Noah's chart hanging above his bed with special photos, his artworks, certificates and other treasures.
Noah's scratched off a few more circles than when these photos were taken and when he completes the chart I plan to turn it into a fun game of bingo – by cutting it into 4 for 4 players and the winner is decided when a row is covered. That way the fun can continue and Noah can be reminded of his success and reward for good behaviour every time he plays it.
Want to buy your own Success chart?
You can buy yours here via the Cherry Top Rewards Facebook page. (At the time of writing this post the cost for a success chart is NZD$10.95.) And if you don't have Facebook you can also buy your success chart from the following retailers: Weepals, Urban Bambini, Kebe Kids, Toytistic, Bella Bambini, IQ Toys, Bubbalooz, Bee My Baby.
…
And, do you remember me mentioning the word … GIVEAWAY???
Here is how you can win your own success chart: (There are 3 possible entries – the more times you enter the higher your chances of winning):
Entry #1: Comment here with what you'd use the success chart for.
Entry #2: 'Like' Cherry Top Rewards on Facebook.
Entry #3: Share the link for this giveaway on your choice of social media (FB/ twitter/ blog/ pinterest etc…)
Please leave a separate comment for each entry and leave your email address if it's not linked in your profile.
THIS GIVEAWAY IS OPEN INTERNATIONALLY FOR 2 WEEKS ENDING MONDAY 8 APRIL 2013 8PM NZ TIME. I will also throw in a little mystery item from me too (I haven't decided on what yet!)
Good luck and thanks again to Krystal of Cherry Top Rewards.
Jenny x
Joining in with Miriam and others for 'Becoming the Mama I want to be.'