As I mentioned here, I caught up with my sis, Holly in the weekend and we had dinner, a good chat and played dress-ups. Well actually I was the one who played dress-ups and she was my photographer and stylist. She works for World and has great taste, so has lovely clothes and knows how to style and wear them. (I also sometimes have the benefit of getting her hand-me-downs.)
We had a lot of fun – it turns out the joy of playing dress-ups is not just for little kids.
[Everything I'm wearing is Holly's, the dress is World, shoes from Overland and I'm not sure about the belt.]
Can you tell we had a lot of fun? And please can I assure you, we weren't taking ourselves very seriously!
For the record, this is the first time I've cooked in sequins.
This is my attempt at a pout, I look pretty mad!
I also tried on Holly's budgie pants. The fabric is 100% silk and the budgie print is adorable.
Did anyone else have a pet budgie or two as a kid? I can't remember the whole story, but I'm pretty sure when it was our turn to look after the kindy budgie, our cat got it!
[Coat and pants from World]
I want some of this fabric so bad!
Thanks Holly for a great night! (I also left with a very generous parting gift from Holly that I will most likely be rocking in a future WW post very soon.)
Have you played dress-ups in your/ your sister's wardrobe recently?
I thoroughly recommend it.
Joining in with…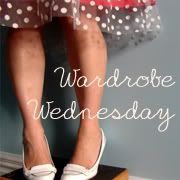 over at it's new home on Miriam's blog… and,
also with WIWW at the pleated poppy and here too
Jen x