Isabelle definitely gets the lions share of the clothes that I sew. I think this is largely because there are so many more cute and inspiring girls patterns out there than there are for boys.
Because of this when I was recently offered a special deal* for the 'Blank Slate Patterns' e-book by Melissa of Melly Sews, I jumped at the chance. (*I was offered this deal because I had previous bought her Blazer pattern.)
And inspired by my new patterns, I took a break from sewing for the market and whipped up two 'Blank Tanks' last night.
My usually uncooperative model proved very co-operative for the small price of a cookie. (Although it was pretty hard to get a photo of him without his mouthful!)
I found this pattern really easy with great instructions and fast to sew. I have an overlocker/ serger but the instructions are for those that don't, so I would recommend it to all.
My fabric selection, in case you are interested is as follows: Knit fabric used throughout (as per instructions); owl fabric from Spoonflower; grey and white stripe – from an old top of my Mums, purple and green and white stripe – from my MIL's stash.
The idea with the Blank Slate patterns is that you can customise them anyway you want – this is what I've done here with the different coloured fabric on the backs (actually I was just trying to make my owl fabric last as long as possible!
I'm very happy with these – but first we need some better weather for Noah to enjoy them in, it's raining here now! I also recently bought the Wiksten Tank pattern for me and am looking forward to whipping up and wearing a couple when Summer finally arrives!
I could even use the same fabric, so Noah and I can be alll matchy-matchy! (Maybe not!)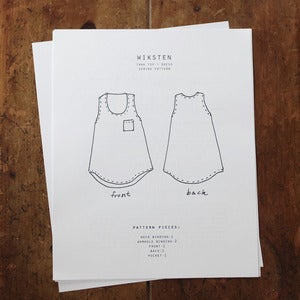 Have you made anything fun recently?
Joining in with 'Our creative Space' and Make it wear it Thursday – later in the week.
Jenny x